Hello Friends of Pyramid Early Learning Center,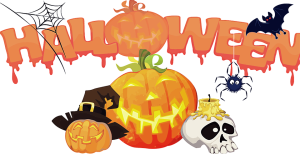 It's almost Halloween!
This week we will be practicing the routine and safety rules of trick-or-treating every day!
When practicing at home, we suggest practicing in 5 steps

Walk to door of house
Knock on the door
Say "Trick or Treat"
Get 1 piece of candy
Say thank you

Have fun when practicing at the home! Hide behind a door and put on any costume pieces you have! This week we have been using stickers as our "treats" in a bowl.
This week will include tons of pretend play, an important component of childhood development. I love this article discussing the educational benefits of dramatic play.
We've been using Halloween books, but even pictures on your phone of people in Halloween costumes can be a great tool to increase predictability. We use language such as, "I see they are dressed up as a dinosaur. They are pretending to be a dinosaur. We can pretend to be dinosaurs. Rawr!"
Always reach out to the Pyramid Early Learning Center for visuals, tips and tricks!
All the best,
Danni Krehbiel
Pyramid Early Learning Center Program Coordinator