Welcome back to Pyramid Early Learning Center! We are so excited to have a new group of friends to learn and grow with! We are off to a fun start with themes like All About Me, Making Friends, Apples, and On the Farm.
Check out some of our favorite books from circle time on these themes.
How Do Dinosaurs Stay Friends?
Our friends are learning about new colors each week including GREEN RED BLUE YELLOW, and shapes CIRCLES SQUARES AND TRIANGLES during our art activities and in play.
When we get to class, we are learning how to be independent when coming to school by taking off our coats and backpacks, hanging them in our cubbies, and washing our hands before we play. We get time to shake out the wiggles in our gross motor gym before transitioning to sit for circle time.
During circle time, we are having fun learning our friends names, learning about the weather and days of the week, and counting on the calendar. Our favorite song to sing is Days of The Week to the tune of 'Addam's Family!' After we listen to our daily schedule, we head to our table for an art project. We had fun identifying different body parts to make our faces, they are hanging in the classroom for everyone to see!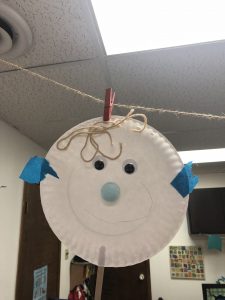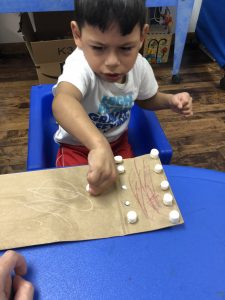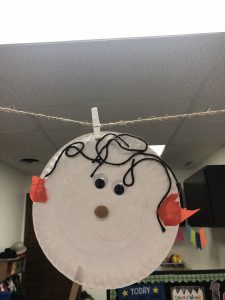 We also had fun making paper bag puppets with marshmallow teeth to practice counting!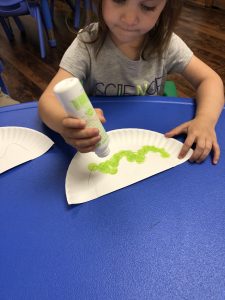 During gross motor time, we are learning how to follow directions and play with our friends. Activities like swinging on the platform swing, singing Five Little Monkeys and jumping on our crash pad, and playing in the ball pit are our favorites.
After working hard in the gym, its time for a snack. Everyone brings their favorite foods from home and sometimes we like to share with our friends. Then its time for another table time activity. Our favorite is dot paints and playdoh!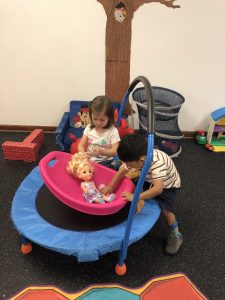 September has us off to a great start… we can't wait for all the fun in store for October!
Themes Colors
Fire Safety: Purple
Community Helpers: Gray
Autumn Leaves: Brown
Halloween: Orange/Black
Shapes Letters
Rectangle D
Oval E
Star F
Heart G
Diamond H